I have a few favorite items that I've been loving and using in regular rotation this month so I thought I'd share with you guys what they are. I found a perfume I'm obsessed with, a facial oil that works for my skin, fell in love with polaroids, and found a pair of edgy boots that I can wear with anything.

Jo Malone
I'm not one to switch up perfumes very often. Partly because I don't like the hunt of finding a new one, partly because I have asthma and I'm super sensitive to strong smells, and partly because I like to smell the same. Pretty much all throughout high school I wore Chanel Chance, then decided I wanted to switch it up in college to Viktor and Rolf Flowerbomb which didn't last that long because I became sensitive to it.
For Christmas I wanted to get a new perfume that I could wear every day, not die of an asthma attack from, and wasn't so strong where you're smelling me before I even walk into the room. People rave about Jo Malone and I've always admired their packaging so I decided to try it out. I am obsessed to say the least! There are SO many different scents for everyone's preference ranging from floral to musk to pear, that I'm sure you'll find a scent that you love. It's just the right amount of presence and doesn't trigger my asthma, for all of you that are also sensitive to smells. It is pricey – as most perfumes are, so I started off with the smallest size to make sure it passed the test. I will definitely be getting the larger size when I run out. If you haven't tried it, or have been contemplating biting the bullet, I definitely recommend it!
1. Jo Malone Small
2. Jo Malone Full size

Biossance Squalane + Vitamin C Rose Oil 
I'm 24 years old which means I'm basically 30, which means I need everything anti-aging that is on the market. I've always been good about taking care of my skin because it's part of my job description, but lately I've felt like my skin has looked dull. If you take care of your skin and your base, your makeup will look better on your skin. I wanted to bring luminosity back into my skin while also hydrating it, and preventing fine lines etc. After being recommended a few different serums and oils, I went with the Biossance Squalane  + Vitamin C Rose oil because it has 100% Squalane oil which your body produces on its own, but produces less and less of it as you get older. It also has Vitamin C  and is hypoallergenic. I'll put it on at night on my face and neck and also in the morning before my moisturizer. So far I love it and how it makes my skin look and feel. I'm looking forward to taking it with me on my next trip and drowning my face in it on the plane.
1. Biossance 100% Squalane oil here
2. Biossance Squalane + Vitamin C Rose Oil here

Polaroid Camera
Polaroids are sprinkled throughout my home because I love their vintage feel and being able to have memories around the house that don't take up a lot of space. I used to go to the polaroid store and print them out from photos I had on my phone, but my brother got me a polaroid camera and I haven't stopped using it. I think they're great to have for vacations and to capture sweet moments around the house. You can date them, write a sweet message, or even put them in a frame.
1. Polaroid Camera here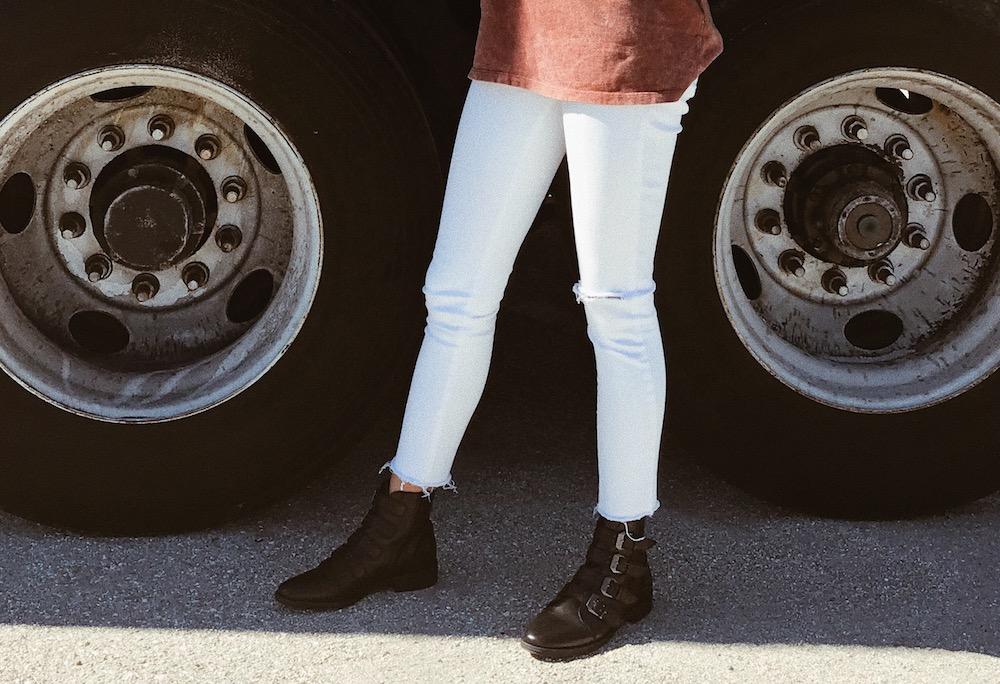 Black Buckle Boots
These are the edgiest boots I own and I love them because they're versatile. I'll pair these Steve Madden boots with jeans and a tee for castings or a girly dress on the weekend and they're the only accessory I need. They are super comfortable and easy to walk around in when I take them with me to NYC, and the zipper on the side makes them easy to put on and take off. You can purchase them on sale here.
1. Steve Madden boots here
2. Similar here
xx Raquel