It's the most wonderful time of the  year! Holiday season is in full gear which means only one thing… gifts, gifts, and more gifts. I'm not mad about it. One of my love languages IS receiving gifts (D I hope you're reading this)  so it only makes sense that the holidays (Christmas) is my favorite time of the year. Being a makeup junkie like I am, as you are too if you are reading this, I thought it would be helpful to let my fellow makeup connoisseurs in on some awesome value sets that are under $50.
Let me know of any great holiday value sets out there I need to check out & if you love any of these below 🙂
Value Sets under $50

Sugar Lip Beauty Box $45
These sugar lip treatments are great because they come natural and also in tinted shades from red to a bold berry while moisturizes and evening out your lips. They also have SPF which is always a plus. This is definitely a value set that is worth the price and that anyone can use and appreciate.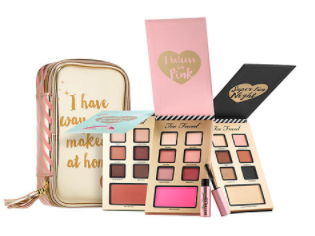 TOO FACED Best Year Ever Makeup Collection $49                           
One of my favorite brands sold at Sephora is TOO FACED, partially because they have the cutest packaging and partially because their products are really as good as they look. This value set includes their best selling mascara "Better Than Sex," 3 eyeshadow palettes each including one face product, and a cute bag to go with it which acts as another gift in itself.
Cover FX Custom Enhancer Drops Set $42 
For the girls who love highlighter, this set is for you. These custom enhancer drops are very pigmented and a little goes a long way. This set includes the best selling shades that you can customize by mixing together, or mixing into your foundation. If you want a bright metallic highlight, you can add these drops right over your foundation would you would normally highlight and it definitely won't go unnoticed.


Tarte Limited-Edition Brush Set $44        
Back to basics. This brush set is everything a person needs to get started at an affordable price. I love them because they're super cute and fun and they won't be brushes that are cheap quality. Tarte has some really good makeup brushes so add to your collection or start your collection with this set that includes: Cheek brush, complexion brush, highlighter brush, eyeshadow brush and blending eyeshadow brush.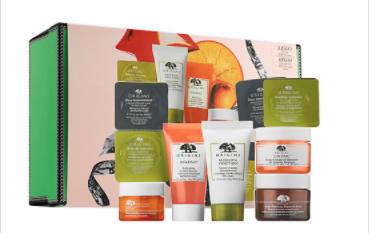 Origins Bestsellers $45
Origins is a skin care line I have used for years on and off. Only off when I get bored and want to try new products, but their products are good for any skin type. This value set is filled with products that will energize the skin and leave it hydrated, including the GinZing Energy-Boosting moisturizer that is blended with coffee bean to help restore radiance to the skin.
xx Raquel